Carl Johnson DMP-4 Mic Preamp Rare - Celine Dion, Doobie Brothers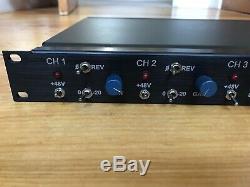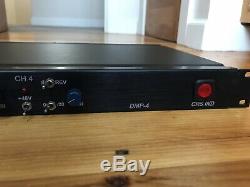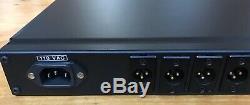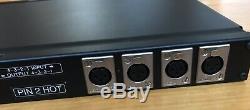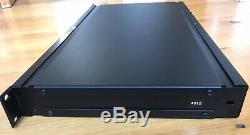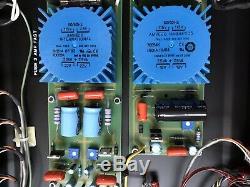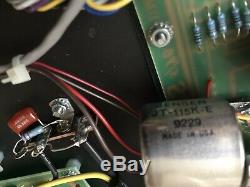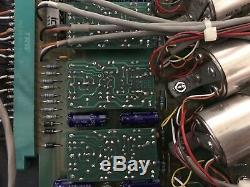 Amazing preamp hand built by Carl Johnson (the designer for a lot of current A Designs gears such as the Ventura). Only 12 were ever built, owners of which included names like Celine Dion, Doobie Brothers and Michael McDonald. Features Jensen Input transformers, Carl Johnson C12X DOA (same as that in Ventura), separate power transformers for phantom power and preamps. Serial #12 (of 12) This is a boutique item and hard to describe because of how rare it is. If it were Universal Audio, Avalon or some other name brand preamp, it would be easier for people to understand what it really is. With that said, I'm just gonna give you the story of how I got it... I had an amazing home studio a few years back, full of some of the best gear I could get my hands on. His response was the DMP-4 unit that his good friend Carl Johnson, an ex-sound engineer/producer/electronics guru had made.
So, Dave put me in touch with Carl Johnson. I called Carl to talk about his amazing preamp, and he said that he had only made 12 of them, and that he had one left, but that it wasn't for sale. He went on to tell me that of the other 11 he made, several of them were in the hands of some famous musicians and producers.
He mentioned that Michael McDonald of the Doobie Brothers had one. The producer of Tool and several other big metal bands (I forget his name) had another, and that Celine Dion had another... I can't describe the sound of this preamp, because frankly it doesn't have a sound, but isn't that the point? This thing sounds exactly like the source you are putting into it. It has top-of-the-line discrete circuitry and Class A components.
I have run stereo mics for acoustic guitars, and that Pearlman TM-47 but that's about it. It's truly an amazing pre, and the sounds that come from it are crisp and pure as any pre could possibly replicate them!! It has very few hours on it because I had to pack my studio and move out of state, and never set it back up. So, it has spent most of its life in a dust free box packed away in a temperature controlled environment for a little over 6 years now. I keep telling myself that I'm going to set up my studio again, but life has taken me in other directions and music has unfortunately become a spectator sport for me. So, I need this very unique piece of gear to go to a home where someone is going to give it the love and attention that it needs!! From Carl Johnson : DMP-4 Microphone Preamplifier is a discrete component, transformer coupled, 4 channel, hand built device for ultra transparent audio. Standard features include; Phase reverse, -20db pad, +48vdc phantom power w/led indicator and a plastic conductive gain control pot. Input/output connectors are XLR and switches are gold contact (no relays).
The heart of the DMP-4 is the C12X discrete operational amplifier on +/-30vdc rails. Its a high gain, fast slew, stable audio block with virtually no DC offset over the audio spectrum and is able to drive a 50 ohm load at 50 Hz with very little current draw. Other interesting features are; Two separate power supplies. One supply is for the four C12X op amps and the other supply is just for the +48vdc phantom.
Both power supplies use toroidal transformers for undetectable EMI and are over engineered for reliability and clean regulated power. All resistors are 1% metal film, COG capacitors and lots of point to point soldering. The item "Carl Johnson DMP-4 Mic Preamp Rare - Celine Dion, Doobie Brothers" is in sale since Sunday, November 17, 2019. This item is in the category "Musical Instruments & Gear\Pro Audio Equipment\Preamps & Channel Strips". The seller is "cinstance" and is located in Hanover, New Hampshire.
This item can be shipped to United States.
Brand: Carl Johson
Model: DMP-4
Number of Channels: 4
Type: Microphone Preamp
Country/Region of Manufacture: United States
Features: Phantom Power